About Us
Are you looking for your next favourite dining spot? Perhaps with sweet waffles, tasty snacks, and savoury meals? If so, look no further than ZenQ, located in the heart of Halifax. Each dish we offer is carefully prepared by our chefs to ensure that every bite is flavourful and better than the last. If you're in the area and need to sit down for a bite to eat, check out ZenQ today!
If it's savoury dishes you're craving, let us satisfy your taste buds with our Snacks section, ranging from Crispy Chicken Wings, to our Golden Onion Rings, to our Sweet Potato Fries with Plum Powder. We also carry a wide selection of meals for you to enjoy, such as our Braised Pork with Rice, the Pork Cutlet with Rice, or the Fish and Chips!If you've got a sweet tooth, we have you covered there as well. Check out our Waffle Series section, jam-packed with flavour and lots of tasty options for you to enjoy! We recommend the Oreo Cocoa Waffle, the Fresh Fruit Waffle, or the Red Bean Waffle!Feeling thirsty? No worries, ZenQ offers a variety of flavourful and sweet drinks for you to enjoy! Why not check out our Handmade Tea Series? This tea comes in flavours such as Lychee, Mango, and Strawberry. If you like creamy frappuccinos, then try our Creamy Frappe Series! A favourite is the Taro Creamy Frappe.No matter the time, mood, or craving, let ZenQ be your next meal! Come to our location on Barrington Street, or order for pickup or delivery through SkipTheDishes and have it delivered straight to your front door! Don't wait, order today!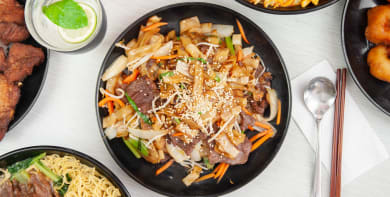 Contact Us
Find Us
1065 Barrington St, Halifax, NS B3H 2P8, Canada, Halifax, B3H 2P8
Opening Hours
Monday
11:00 AM - 9:00 PM
Tuesday
11:00 AM - 9:00 PM
Wednesday
11:00 AM - 9:00 PM
Thursday
11:00 AM - 9:00 PM
Friday
11:00 AM - 9:00 PM
Saturday
11:00 AM - 9:00 PM
Sunday
11:00 AM - 9:00 PM
Please note, delivery times may vary.
We deliver to
B3H, B3J, B3K, B3L, B3M, B3N, B3P